Top 5 Ethnic Outfits To Wear At Workplace
February 28, 2022 Ethnic Wear
An office is a place where you spend most of your time. So, it's important to feel comfortable and confident in your office outfits. Women have started to wear ethnic wear to the workplace when they want to make a statement with just minimal effort. It is a great option for when you don't want your outfit to be too formal or too flashy, but still want it to be on-trend. There are many options available for office attire for women that can be worn at work. But not all of them are comfortable and stylish. That's why we have got your workplace wardrobe sorted with trendy ethnic outfit ideas that are full of comfort and style.
Gaaba Floral Printed Kurta with Embroidered Pant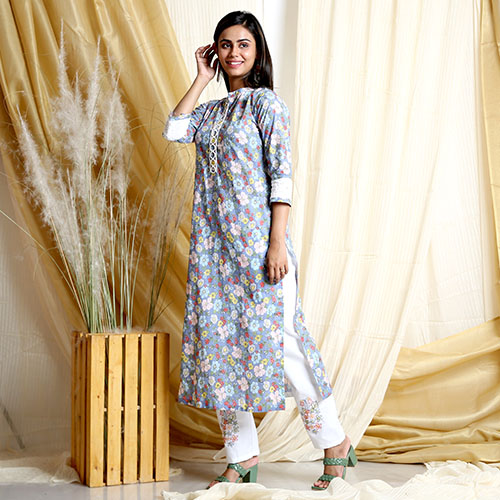 If you like floral prints, then this kurta set is perfect for you. It has a beautiful floral print on the kurta and the matching embroidered kurta pant set. The best part about it is that it's also available in different sizes, if you don't fall under any certain size category and we also offer transitional sizes this means we offer sizes between standard sizes as well.
Buy this trendy ethnic office wear: https://gaaba.co.in/gaaba-floral-printed-kurta-with-embroidered-pant
Gaaba Olive Green Hand Embroidery Knee Length Dress
This solid color dress is simple yet classy and created to flatter all types of bodies, we have added a special work design element which is an upper pocket style and the little hand embroidered work looks a super stunning addition. Just a Hint of floral embroidery at the collar of the dress gives a classy touch to the dress! You can pair the dress with chunky silver jewelry and make a statement during social gatherings or festive occasions alike!
Buy this trendy ethnic office wear: https://gaaba.co.in/gaaba-olive-green-hand-embroidery-knee-length-dress
Gaaba Mustard Printed Cotton Kurta Pant Set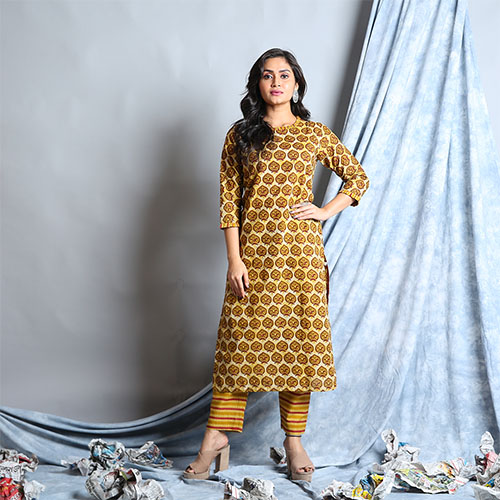 Workplace fashion has evolved over the years. Women are now more aware of what they should wear at work and what is appropriate for office attire. The office dress code has become stricter in recent years, but there are still ways to feel comfortable in your work clothes. This mustard printed cotton kurta is perfect for the office atmosphere as basic color with prints on the kurta makes it simple yet elegant for office wear.
Buy this trendy ethnic office wear: https://gaaba.co.in/gaaba-mustered-printrd-cotton-kurta-pant-set
Gaaba Polka Dots Orange Emboridered Straight Kurti
Polka dots never go out of fashion. These beautiful work outfits for women come in two colors blue and orange. It is made from strong fiber and breathable material and feels soft on the skin. This vibrant color looks perfect for daytime.
Buy this trendy ethnic office wear: https://gaaba.co.in/gaaba-polka-dots-orange-embroidered-straight-kurti
We have a wide variety of office attires for women and ethnic wear available for women at the moment, which means you can find something to suit any type of office environment or dress code.